Feature
CE certified and manufactured in France, the FLY'EVER with mechanical opening legs is a standard patient lift, made in steel and whose maximum lifting capacity is 160 kg.
• It is a mid-range device bringing many benefits to the patient and to the caregiver by its manoeuvrability and its many features.
• As an option, it is available with a lithium battery which enhances the use of the device by increasing the time of use and reducing the charging time.
• USE
Its proportions allow a great ease of movement while remaining easy to handle, providing simplicity of use and versatility to perform secure and comfortable transfers.
Its mechanical opening legs, from 63 cm to 105 cm, allows large widths armchairs or wheelchairs and an ease of access.
• ADVANTAGES
– Securing spreader bar for the patient
– 360-degree rotation of the spreader bar for a simplified positioning
– Great lifting range limiting the risk of knee contact against the actuator and to perform a lifting from the floor
– Easy folding/unfolding without any tools for easy transport
• KEY FEATURES
– 4-point spreader bar for an even weight distribution
– Easy transport due to its folding capability
– Mechanical opening legs
– Reduced height of the front wheels to pass under the lowest beds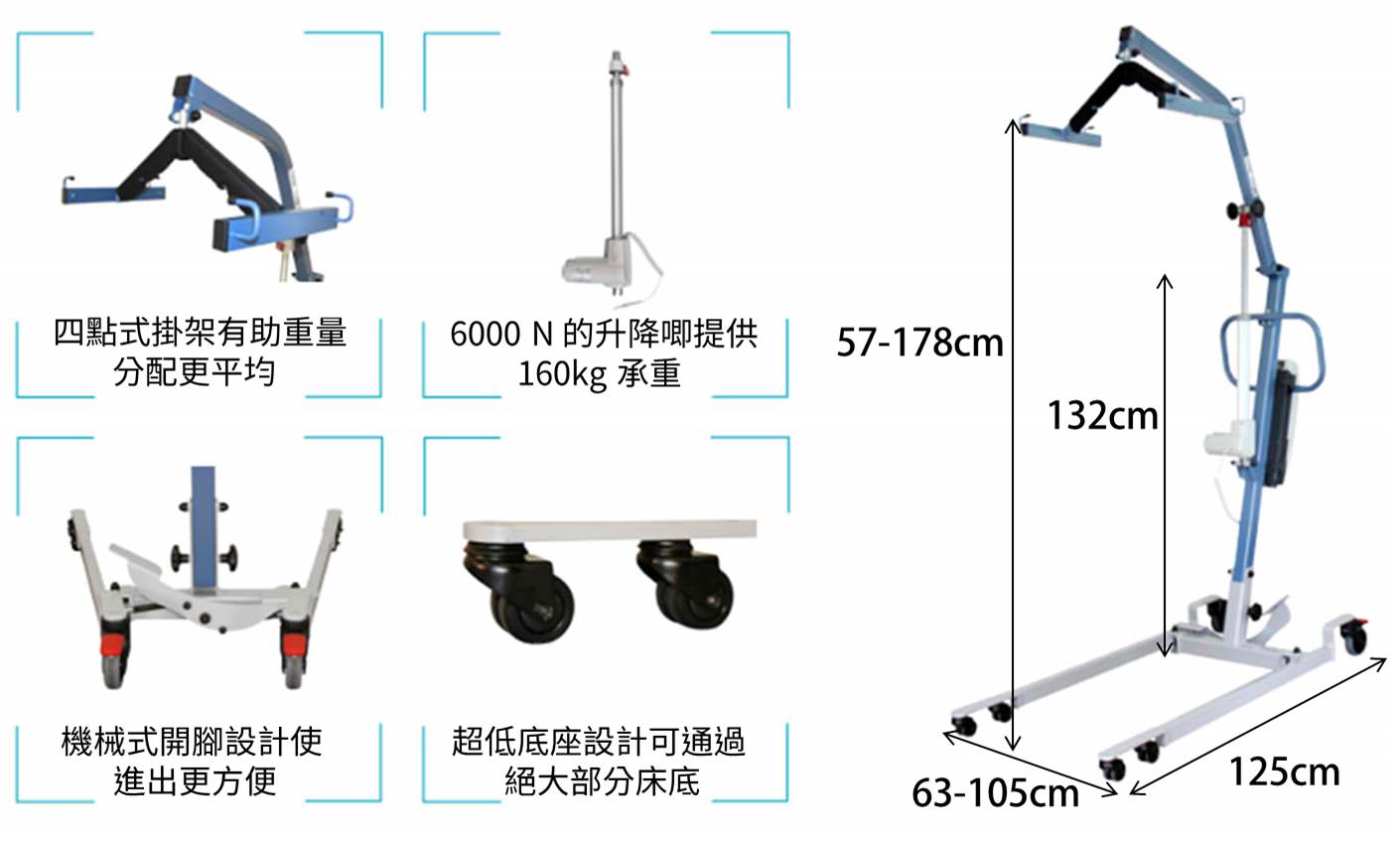 Product Information

Made in France
CE certified
Class 1 medical device
Weight capacity: 160 kg
Total weight: 40 kg
Lifting actuator power: 6 000 N
Steel manufacturing
Total length: 1250 mm
Minimum lifting height: 570 mm
Maximum lifting height: 1780 mm
Total height: 1320 mm
Height of chassis: 80 mm
Minimum base width: 630 mm
Maximum base width: 1050 mm
Turning diameter: 1350 mm