Mini Flyever Patient Lift
Code:
FHA-NM-MINIFLYEVER
Availability:
In Stock
正式公開發售日期待定
Whatsapp
· CE certified and manufactured in France, the MINI FLY'EVER is a standard patient lift, made in steel and whose maximum lifting capacity is 160 kg. It is a mid-range device bringing many benefits to the patient and to the caregiver by its maneuverability and its many features.

USE
Due to its compact base and its reduced dimensions, it has been specially designed for home care use, where the doors openings are very narrow and where the lifting space is limited.
Its mechanical opening base legs, from 55 cm to 78 cm, allows large widths armchairs or wheelchairs and an ease of access.
ADVANTAGES
– Securing spreader bar for the patient.
– Wheels tread suitable for interior floors.
– Suitable for confined spaces due to its compactness.
– Easy folding/unfolding without any tools for easy transport.

KEY FEATURES
– Mechanical opening legs as standard
– Emergency lowering control on the battery pack
– Reduced height of the front wheels to pass under the lowest beds
– 4-point spreader bar for an even weight distribution

Product Information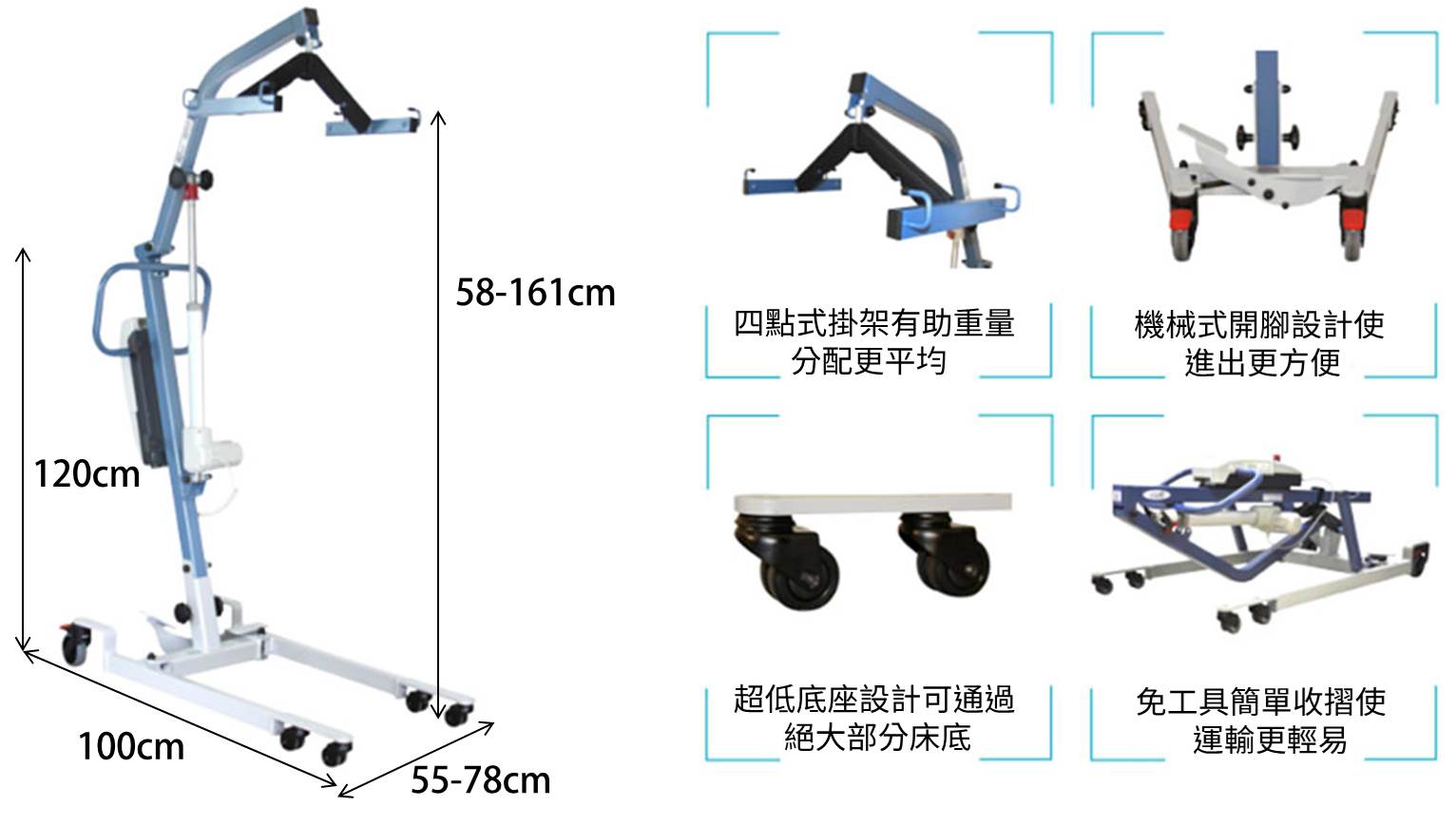 | | | |
| --- | --- | --- |
| Place of Origin | : | France (CE certified) |
| Weight capacity | : | 160 kg |
| Lifting actuator power | : | 6 000 N |
| Total weight | : | 38 kg |
| Total length | : | 100 cm |
| Minimum lifting height | : | 58 cm |
| Maximum lifting height | : | 161 cm |
| Total height | : | 120cm |
| Height of chassis | : | 8 cm |
| Minimum base width | : | 55cm |
| Maximum base width | : | 78 cm |
| Turning diameter | : | 111.5 cm |